As aging Baby Boomers move out of the workforce and into retirement, few communities have started to think long term about how to plan and redesign services for them.
Six years ago, the National Association of Area Agencies on Aging said less than half of cities it surveyed at the time were preparing to deal with the needs of older folks. It said the results "should serve as a wake-up call for communities to begin planning now."
Five years later, the Washington, D.C.-based group revisited the survey and found little had changed.
How Does Technology Help?
Traditional community and outreach programs can be very effective at responding to local senior needs.  With the increases in senior population, organizations may face challenges scaling their programs to meet demand without a boost in municipal support, donations or grants.  In many cases funding for senior programs have been reduced creating significant challenges. Collaboration or sharing resources is becoming an essential strategy for organizations to respond to the
Technology can help organizations:
•  Reach into other neighborhoods and help more seniors
•  Reach more donors
•  Collaborate more effectively with other organizations
•  Engage more volunteers
SmartConnectTM
The technology service offered by SageSource is SmartConnectTM.  This intelligent service empowers seniors to find local resources, programs or people they need.  SmartConnectTM helps the entire community engage and work together including:
•  Seniors
•  Volunteers
•  Local Businesses and Merchants
•  Community-based organizations
•  Expert organizations
•  Large Commercial Organizations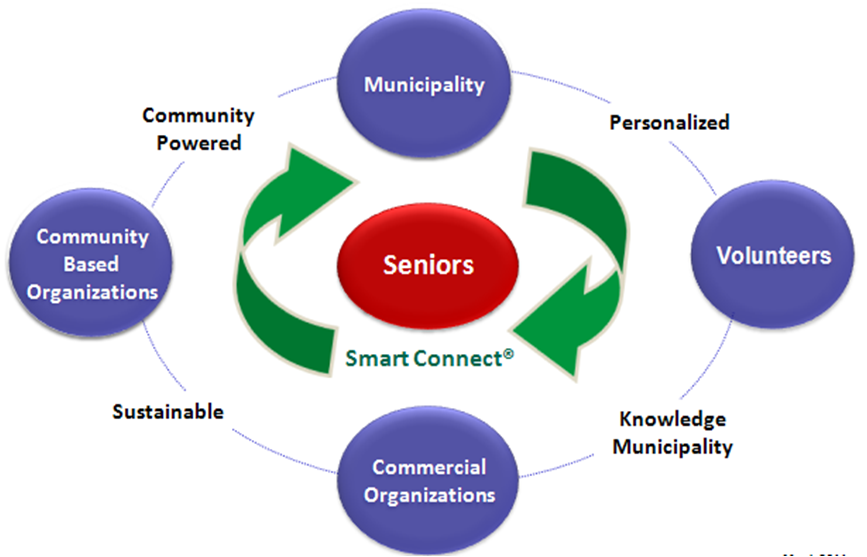 Participating communities are able to share resources, wisdom, information and experiences to better serve their senior population.
When can I use it…
We designed and will soon pilot SmartConnectTM.…connecting a senior at point of need to the best local resources.
Select the contact us tab to send us an email or send us a note at [email protected] for more information.